If you've ever owned your own golf cart, you know that batteries are an essential part. They require the most maintenance and are expensive.
In recent years, more and more people have been making the switch from lead-acid batteries to lithium golf cart batteries for their golf carts. Battery technology has come such a long way, that the old simply can't compete with the new.
While it's a well-known fact that lithium batteries are superior in almost every way, it can be tricky to know exactly what you should look for when buying one. In this guide, we'll cover the benefits of using lithium and the things you should consider when buying them.
The golf cart battery is a kind of accumulator, and its function is to store the limited electric energy and use it in a suitable place. Mainly used in golf carts, electric sightseeing cars, electric RVs, electric four-wheeled vehicles, electric express vehicles, electric forklifts and other products.
What makes golf cart lithium batteries so excellent?
Constant power – Unlike lead-acid batteries, lithium batteries operate at full power
throughout discharge, even when they are at less than 5%. Low battery won't result in sluggish performance.
Lightweight – Lithium batteries are 50-60% lighter than their lead-acid equivalents. This
makes them significantly easier to install. Plus, it increases your golf cart's weight-to-performance ratio, enabling you to reach higher speeds with less effort. Even the best golf carts could benefit from being a little lighter.
Fast charging – Lithium batteries can be fully charged within 1-3 hours. This is a vast
improvement over lead-acid batteries, which can take over 8 hours to fully charge.
Maintenance-free – No water needed, and no cleaning of acid residue required. Just charge them up, and they're ready to go.
Safety – Most lithium batteries utilize Lithium Iron Phosphate (LiFePO4), a chemistry that
is inherently safe. In addition, Battery Management Systems (BMS) have been developed in order to regulate heat, eliminating the risk of overcharging and overheating.
Long-life – Lithium batteries have up to a 10x longer life cycle than lead-acid batteries.
Long shelf life – Lithium batteries have a very low rate of self-discharge, meaning they maintain a state of charge for longer when not being used.
Eco-friendly – Due to their lower charge times, and the fact that they contain less
hazardous materials, lithium batteries are far better for the environment than lead-acid batteries. They're the best golf cart batteries for the environment by far.
Lithium Golf Cart Battery can also be classified as 12V, 36V and 48V by the usage scenario and golf cart motor, these are the most common types of Lithium Golf Cart Battery, where 48 volt lithium battery has become one of the most powerful batteries on the market today, it can not only power your golf cart but also provide excellent speed, acceleration and value for utility vehicles, AGVs and more.
Most popular 48V Lithium Golf Cart Batteries
48V Lithium Batteries for PowaKaddy Golf Carts
The unique Plug 'n' Play™ Battery System replaces fiddly connectors, allowing batteries to slide quickly into place. Cutting edge technology ensures that your battery discharges less during each round of golf.
PowaKaddy Plug 'n' Play™ lithium batteries are the thinnest and most powerful batteries on the market. They are lightweight an excellent alternative to lead acid batteries. Plug 'n' Play lithium batteries are compatible with the original charger supplied with your FW3, FW5, FW7 or Compact C2 or C2i trolley.
OPTIONAL: XL – EXTENDED PLAY 14.8v 36-Hole LITHIUM BATTERY. Charges in 5 hours!
Features:
18 Hole Capacity On One Charge
Optional 36-hole Extended Play Battery
Unique Plug 'n' Play System
Advanced Battery Management System (BMS)
12+ Volt, 18 Ah Capacity
Weight: ~ 4 lbs.
Dimensions:~ 9 x 9 x 2½ In.
5-Year Warranty
PLEASE SPECIFY: C2I, CT, FW OR FX line trolley.
To Order Select Quantity & Add To Cart
keheng 48V lithium golf cart batteries
KEHENG golf cart lithium battery manufacturers provide high-quality 48V golf cart lithium battery oem solutions for powakaddy battery, EZ Go, Club Car, Yamaha and other brands, support customized golf cart battery capacity, you can find it on our website See the conventional 30Ah, 80Ah, 100Ah, 120Ah, 150Ah, 200Ah capacity 48V lithium golf cart batteries. Our goal is to provide customers with the best lithium batteries! Provide our customers with the best solutions.
KEHENG 48V lithium golf cart battery is manufactured using 100% brand new Grade A lifepo4 battery cells, include CATL and EVE, LISHENG's Power LiFePO4 lithium battery cells. More than 4,500 cycles compared to 500 cycles for other lithium or lead acid batteries. Best performance down to minus 20 degrees Fahrenheit. Combined with twice the power of a lead-acid battery, it weighs only 1/4 the weight of a 6V lead-acid battery pack. All are backed by a top-notch 12-year warranty.
For best performance, you need to choose a LiFePo4 battery and charger that can or can load the correct algorithm. Please choose the original original charger.
Wide range of uses: In addition to being used in golf carts, KEHENG lithium-ion batteries are also very suitable for low-speed power vehicles such as RVs, medical equipment, ships, fishing boats, sailboats and small four-wheelers, tricycles, driving, industrial forklifts, etc.
LONGER LIFE LIFE AND MORE SAFETY: Compared to the 300 to 500 processes provided by lead-acid batteries, KEHENG Li-Ion batteries can give you about 4000 to 6000 cycles and a lifespan of about ten years.
Efficient power and capacity expansion: Users who like and are good at DIY can connect batteries in parallel and series according to their needs or requirements. In order to control the quality and consistency, most buyers choose the voltage and current power to be completed by Keheng factory, and the Keheng factory has more than 10 years of OEM experience of European and American lithium battery brands, with high-quality technical production line workers and laboratory standardized processes, absolutely guarantee the quality of the factory.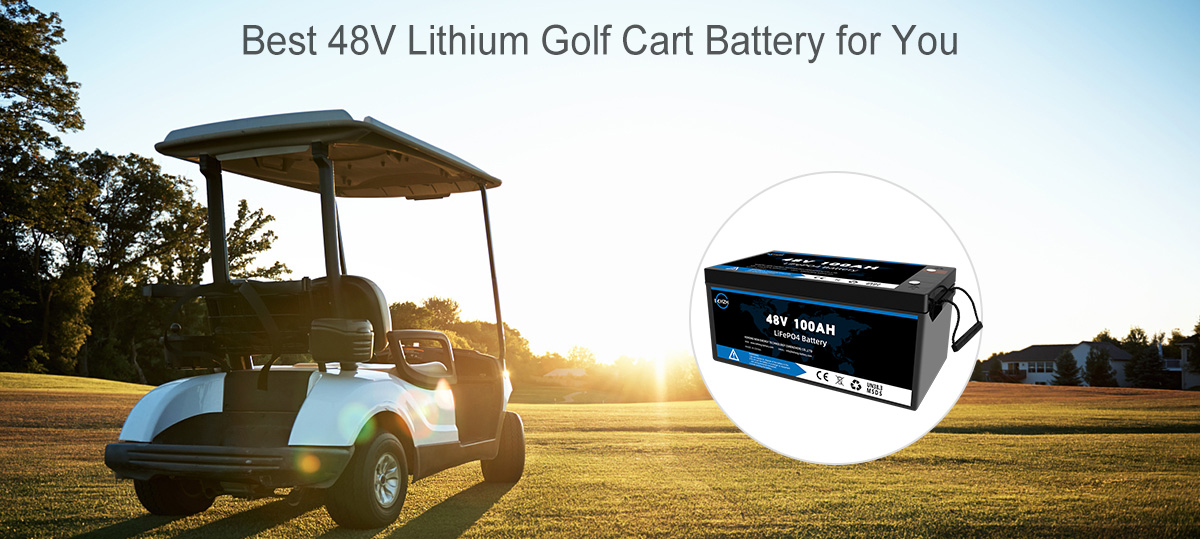 Allied 48V 30 Ah Lithium Golf Cart Battery
Allied Battery has years of experience in the lithium battery field, their 48V 30Ah golf cart battery uses LiFePo4 technology, which is one of the safest electrochemical, but this is not the only feature of Allied Battery, because most of the well-known lithium ion golf cart batteries on the market use LiFePo4 technology So Allied Battery will be more prominent in the golf cart field with their plug-and-play feature if you choose to replace the lead-acid batteries in your golf cart with their 48V lithium batteries, installed just like 1,2,3… as simple as that.
Allied Battery batteries are based on the original 48V 30Ah Li-ion battery module, and depending on your usage requirements and mileage requirements for the high two courses, you can connect 2-6 of these batteries in parallel, meaning from 2 x 48V 30AH (60AH) batteries all the way up to 6 x 48V 30AH (180AH) batteries, and to extend the life of the Allied Battery batteries, they prefer to use the Allied Charger to charge the golf cart batteries.
Go Battery 48 V 100Ah Lithium Golf Cart Batteries
Go battery's 48V golf cart lithium battery has a completely different, long design that allows for better filling of the golf cart seat. And it has an actual battery capacity of 105Ah, which means you don't need to connect more modules to your golf cart in parallel, just one battery for your long-distance driving pleasure.
Go battery 48V golf cart lithium batteries claim to be the smallest, lightest and most powerful lithium batteries in the world, but that's also because they use lithium iron phosphate technology, which is currently the most suitable for energy storage. In their product description, they talk about 1C = 100A / 1-hour discharge to 30% deep DOD with a battery life of over 8000 life cycles, and if that can be achieved in real-world use, then this is indeed a reason to go for it.
Besides, the actual nominal voltage of Go battery is 51.2V, so the battery can be used in golf carts, but also produce good effects in solar energy, electric cars, mini-homes, RVs, and telecom systems.
Lithiumhub 48V Lithium Golf Cart Battery
Lithiumhub's 48V Lithium Golf Cart Battery is somewhat similar to Allied's battery in that they are also plug-and-play and ready to replace, but the difference is that their battery capacity is only 27Ah. If you are replacing your golf cart with a Lithiumhub lithium battery, then you can use their The Ionic Bluetooth app helps you track battery life easier than ever, with all the data you need to turn on your phone to see.
What Lithiumhub is most proud of compared to other lithium golf cart battery brands is that they can offer users an 11-year warranty, which makes them one of the most impressive lithium golf cart battery brands for users.
Dakotalithium 48 V Lithium Golf Cart Battery
The Dakota lithium 48 V Lithium Golf Cart Battery warranty is as attractive as they look, as they, like Lithiumhub, can promise their customers an 11-year warranty. In addition, their 96Ah battery capacity provides consistent performance for most golf carts.
If you are using a cart with a top speed of 27 Ah and want to expect 30-40 miles of battery range, don't worry, you only need to parallel 2 battery cells to double the range.
This 48V 96Ah is also the largest Lithium Golf Cart Battery made by Dakota Lithium, with up to 5kWh of deep cycle power in a single power source, and is optimized for deep cycle and marine applications such as 48V solar storage, 48V electric outboard motors, 48V golf carts, or any 48V long term applications that require a stable power source. Includes a free 48V 8A amp LiFePO4 charger!
Relion 48 V Lithium Golf Cart Battery
Undoubtedly one of the most popular battery brands in the Lithium Golf Cart Battery segment, Relion, a veteran lithium battery company, offers the InSight Series™ 48V Lithium Iron Phosphate, a GC2 size drop-in replacement battery designed for golf carts, utility vehicles, LSVs and AGVs.
The InSight Series series has a very powerful expansion capability, he can connect up to 10 identical modules in parallel, providing you with up to 300Ah of battery capacity, so you can easily meet your higher range needs, but usually in the golf cart field, 2-6 batteries are sufficient.
1 InSight 48V battery = 12 – 17 miles per charge, 2 InSight 48V batteries = 24 – 34 miles per charge, 3 InSight 48V batteries = 36 – 51 miles per charge, 4 InSight 48V batteries = 48 – 70 miles per charge, 5 InSight 48V batteries = 60 – 85 miles per charge Per charge, 6 InSight 48V batteries = 72 – 102 miles per charge, you can easily determine the number of batteries you want by following their instructions.
Chargex 48 V Lithium Golf Cart Battery
The Chargex 48 V Lithium Golf Cart Battery uses a combination of cylindrical LiFePo4 cells, which are less stable than prismatic cells, but they are easier to produce, have a lower cost per kilowatt, and have good heat dissipation.
Again, to meet the varying needs of consumers, the Chargex 48 V Lithium battery page offers a variety of capacity options such as 50Ah, 75Ah, 80Ah and 100Ah, and this Chargex® 48V 100AH lithium-ion battery kit is a "direct replacement". Simply remove the old battery, connect the Chargex® lithium-ion battery, and you're ready to go, no changes or additional parts are required.
The Chargex product description page shows us their battery cell method of bolting on, which gives the battery improved strength and better conductivity.
LBS 48V Lithium Golf Cart Batteries
LBS' 48 V Lithium Golf Cart Batteries has a cycle life of 6000 times, and they also have many different capacities to choose from, such as 40Ah, 60Ah, 100Ah, 120Ah, but this is not all of them can choose the type of battery, if Your golf cart has special needs and they can customize the system for you up to 480Ah, so it is also perfect for solar in 48V, marine and RV systems, robotics, warehouse work vehicles and forklifts in 48V electrical systems.
Their 48V 100Ah battery system has tested 58-63 miles on the EzGo, but that's the result of a driver driving about 10m/h on relatively flat asphalt, if your golf cart is in Different altitudes, terrains, or use at different speeds may change this result.
Ampere Time 48V Lithium Golf Cart Batteries
The Ampere Time 48V Lithium Golf Cart Batteries is not their mainline, but their brand is very popular on Amazon, which is why I added them to the list.
You can use their 12V series of lithium battery systems to combine and put them into your golf cart, and you can choose the number of batteries you want according to your specific needs. And in addition to golf cart applications, you can use these batteries for RVs, off-grid applications, marine systems.
In their publicity, they say that their battery cycle life can reach 4000~8000, but we know that if lithium iron phosphate batteries are used, this cycle life is not surprising.
Things to Consider When Buying a Lithium Battery for Your Golf Cart
Before you confirm a purchase, you'll want to make sure you're getting the battery that's right for you by taking the following into consideration.
Swapping from Lead to Lithium
Many older carts run on lead batteries which means they may require a conversion kit to be installed into the cart to alter the voltage and accept a new battery. Lithium batteries are also usually different sizes to lead batteries so you should take that into account when converting. This means you may also have to buy battery spacers. It's likely best to use a 48v lithium battery as a drop-in solution if you're upgrading to lithium, but these are generally more expensive than lower-voltage batteries.
Battery capacity
Measured in Ah (ampere-hours), a battery's capacity is the amount of power it can discharge in a single-use. In other words, it's how long the battery will last before it needs recharging. Pretty much all lithium batteries will easily cover you for 18 holes of golf. Some batteries, with an AH of around 100, can run for as long as 36 holes.
Weight
Most lithium batteries weigh between 10 and 20 kg – a fraction of the weight of your average lead-acid battery. By using a lithium battery, your weight-to-performance ratio will be greatly increased. However, you should be aware that higher-capacity lithium batteries are slightly heavier than standard.
Charging Lithium Batteries
Lithium batteries are often much safer than lead batteries to charge. They usually have surge protection, smart chargers, and overcharge protection to make it safe for your to leave the charger on overnight. Many models don't even need to be removed from the cart to charge. However, you should check if the exact battery you plan to buy has these features.
Cycle lifespan
The charge cycle lifespan is basically the number of times lithium ion golf cart batteries can be charged before they pack it in. When looking for a lithium battery, you should expect a lifespan of no less than 1500 cycles. If you were to play one round of golf every day, these batteries should last for 4-5 years. Some lithium batteries have a cycle lifespan of up to 8000 cycles and can last as long as 10 years.
Voltage
Voltage is basically the amount of electrical power that your lithium battery holds. 24v is a fairly standard amount of voltage for lithium golf cart batteries.
Dimensions
It's essential to check the dimensions of your golf cart battery holder before you purchase a new battery. If you choose a battery that is larger than your holder, you will have a lot of difficulty keeping it secure. If you cross-reference the dimensions of your cart holder against the size of the battery, you can ensure your new lithium battery will be a good fit.
Most lithium batteries are roughly (W)160mm x (L)250mm x (H)200mm. Batteries with larger capacity tend to be slightly bigger. However, generally speaking, lithium batteries are nice and compact; they're a good fit for most modern golf carts.
This depends on the specific battery, but you can expect most lithium cart batteries to last at least four to five years. Top-tier lithium cart batteries can last up to ten years.
Lithium golf cart batteries can be more expensive than their lead acid counterparts. There's no denying that. However, most are more cost-efficient in the end because you don't have to replace lithium batteries nearly as often as lead acid ones.
Lithium batteries also require a lot less maintenance and care. While you have to take care of them like anything else, there's not a whole lot of extra work involved.
Lithium batteries are better for the environment too. That's due to the simple fact that there's no acid that can leak out.
So, YES! Lithium cart batteries are absolutely worth it.
Charging lithium batteries is a little delicate. By no means do you want to let your battery run out of juice. At the same time, you don't want to charge your battery too often because that will shorten its life.
Most lithium batteries can last a couple rounds of golf. Your best bet is to keep an eye on the battery gauge inside your cart and charge the battery accordingly.
For all the positive attributes lithium cart batteries possess, there are some disadvantages you should be aware of.
The first is that lithium batteries are sensitive to really warm temperatures. If a lithium battery is completely drained and it's hot out, it might not be able to be recharged. In that case, you're looking at purchasing a new battery. If you make sure your batteries are always adequately charged though, you shouldn't have any problems.
Price can be another limiting factor for some golfers. Lithium batteries are more expensive than those that are battery acid. The good news is they last longer.
Never jump-start your deep cycle lead-acid golf cart batteries off your car.
The four types of golf cart batteries:
Flooded Lead Acid (wet) batteries
AGM Lead Acid Batteries
Gel Lead Acid Batteries
Lithium-Ion Golf Cart Batteries
Most golf carts come with Flooded Lead Acid batteries but retrofitting with Lithium-Ion batteries is straightforward.
Lithium Golf Cart Batteries cost more than Lead-Acid batteries but bring significant benefits.
Last longer than lead-acid batteries
Require no maintenance—no watering or cleaning
Do not lose power as their voltage dips
Recharge speeds are much faster.
Weigh less
The battery life span is based on the number of recharges and the quality of maintenance, making used batteries not worth the gamble.
Golf cart batteries and car batteries have different requirements, standards, and maintenance needs. It can be dangerous to use car batteries in a golf cart.
There are two power features to look for when you purchase batteries.
The voltage (Volts or V) translates to how much power.
The current (amps or A) translates to how fast the power goes.
Amperage is distance and time left on the charge. The higher the amperage, the further the drive per charge. For long leisurely rides, go for high voltage. For short but highly responsive rides, choose amperage.
Your electric cart will take 6, 8, or 12V batteries. Its volt electrical drive system will have a 36V or 48V system. To find out which type your cart takes, check the battery compartment. There will be 3, 4, or 6 holes. Multiply by two, and that is your cart's voltage capability.
Maintenance for batteries battery life spans over 5-6 years.
Clean with a bristle brush and mild cleaner that has anti-corrosive properties.
Prevent oxidation and acid contact with the terminals by putting silicone paste on the terminal ends.
Watch the wiring and replace frayed cables.
Look for installations that are disconnected and reconnect.
Charge your cart between 8 to 10 hours.
Keep the charge above 20%.
Instead of deep charging, just keep it regularly topped off.
The voltage for the charger and the cart must match.
Underpowered chargers will build sulfation on the negative plate.
Overpowered chargers will build corrosion on the positive plate.
Both situations reduce the long-term durability of either the charger or the batteries.
Conclusion
Remember this information when shopping for golf cart batteries:
Golf carts use a series of batteries that supply the needed voltage and amperage, so size and power requirements are key features for a replacement.
Be aware that golf carts do not use a single battery, but multiples of 6V, 8V, or 12V batteries. Ensure any replacement batteries you purchase use the same combination.
Do not upgrade your batteries over the manufacturer's recommendations, which can ruin your cart.
Match the brand standard to the standard on your replacement battery packs. The wrong battery can waste money, a hazardous situation, and any combination in between.
The above brands of 48V golf cart lithium batteries have their own advantages, and the brand awareness has its own praise in different countries. The procurement channels of these brands are basically from China's lithium battery manufacturers, and Keheng New Energy is one of the best OEM battery brands exported to Europe and the United States. One of the popular lithium battery manufacturers. No matter how you choose, be sure to find the battery that best meets your needs, and use your battery reasonably according to the battery manufacturer's regulations. For example, on some golf carts, it is stipulated that the car battery needs to be under 30% DOD to reach 7000 cycles. So you don't need to overcharge and discharge in daily use to ensure your battery has a lifespan of nearly 7000 cycles.
If you have any questions about the choice of 48V lithium-ion golf cart, you can contact our professional engineer team, leave a message on the website or email info@keheng-battery.com, and attach the brand of the golf cart you are using and Voltage. We will patiently answer your questions.