200AH 12V LiFePO4 battery has a series of unique advantages such as stable working voltage, high energy density, long cycle life, low self-discharge rate, no memory effect, and green environmental protection. It also supports stepless expansion and is suitable for large-scale electric energy storage. Energy power stations have good application prospects in such fields as safe grid connection, grid peak shaving, distributed power stations, UPS power supplies, and emergency power systems.
Premium LiFePO4 Battery Waterproof Battery Box
With the rise of the energy storage market, in recent years, some power battery companies have deployed energy storage business to open up new application markets for lithium iron phosphate batteries. On the one hand, due to the characteristics of ultra-long life, safe use, large capacity, and environmental protection, lithium iron phosphate can be transferred to the energy storage field, which will extend the value chain and promote the establishment of new business models.
On the other hand, energy storage systems supporting lithium iron phosphate batteries have become a mainstream choice in the market. According to reports, 200AH 12V LiFePO4 battery have tried to be used in electric buses, electric trucks, user-side, and grid-side frequency modulation.
1) Safe grid connection of renewable energy power generation
The inherent randomness, intermittent news, and volatility of wind power generation determine that its large-scale development will inevitably have a significant impact on the safe operation of the power system. With the rapid development of the wind power industry, especially most wind farms in country are "large-scale centralized development and long-distance transmission", the grid-connected power generation of large-scale wind farms pose severe challenges to the operation and control of large-scale power grids.
2) 200AH 12V LiFePO4 battery for grid peak shaving
The main method of power grid peak shaving has always been pumped storage power stations. As the pumped storage power station needs to build two reservoirs, the upper and lower reservoirs are restricted by geographical conditions, it is not easy to construct in plain areas, and it covers a large area and high maintenance cost. Use lithium iron phosphate battery energy storage system to replace pumped storage power station, cope with grid peak load, free of geographical conditions, freedom of location, less investment, less land occupation, low maintenance cost, and will play an important role in the process of power grid peak regulation.
3) 200AH 12V LiFePO4 battery for distributed power station
4) 200AH 12V LiFePO4 battery for UPS power supply
The sustained and rapid development of economy has brought about the decentralization of UPS power users' demand, which has caused more industries and more enterprises to have a continuous demand for UPS power.
Compared with lead-acid batteries, lithium iron phosphate batteries have the advantages of long cycle life, safety and stability, environmental protection, and low self-discharge rate. With the continuous maturity of integration technology, the cost continues to decrease. Lithium iron phosphate batteries are used in UPS power batteries. Will be widely used.
Best Lightest  And Powerful LiFePO4 Bluetooth Battery
LiFePO4 Bluetooth Battery Internal Structure
KeHeng caring every details of the lithium battery pack to assure you get the most safe and durable battery using experience,Strictly select battery cells and battery pack accessories, strictly implement production ISO specifications.
LiFePO4 Bluetooth Battery
 Management System BMS
LiFePO4 Bluetooth Battery App Monitor
Extremely high number of charge/discharge cycles >4000 without worrying about the depth of discharge. The lithium technology allows you to use the full amp capacity without damage. You should get more than 10 years with proper maintenance. 10 year manufacturers warranty

Bluetooth monitoring software available to download onto your phone from your app store

Wide operating temperature range and unsurpassed high temperature performance. Green energy without metal contaminant.

High amp capacity with a sophisticated BMS safety protection system, short circuit protection, over and under charge protections. Each cell is fused and if for some unlikely situation a cell fails, this design will isolate the cell stopping any other damage and allows the battery to function safely

350A peak discharge for 10 seconds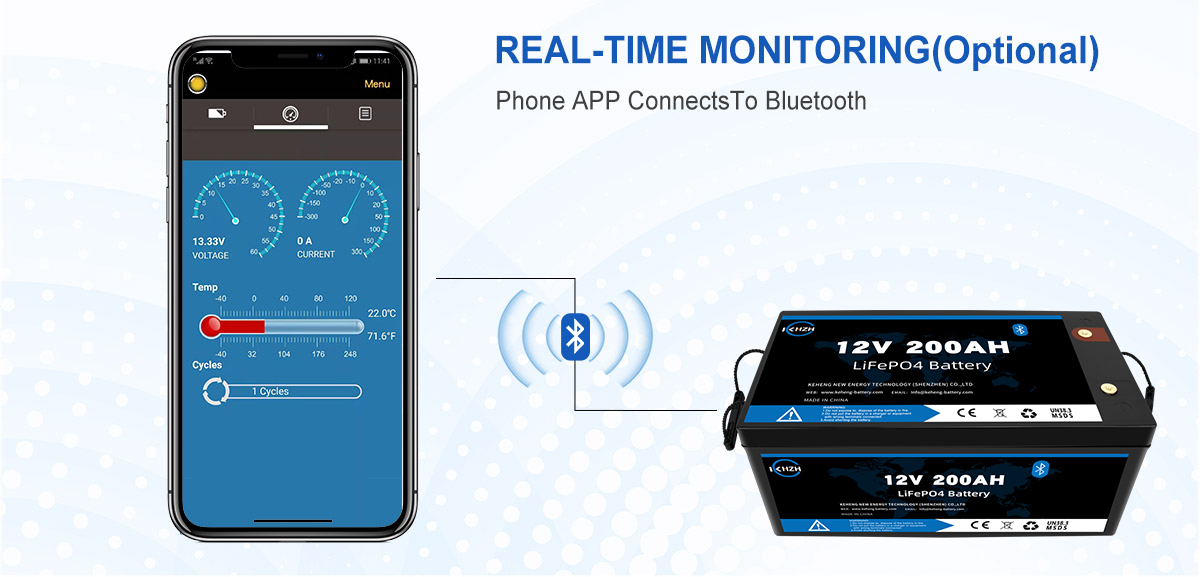 LiFePO4 Battery Applications 
Solar/wind Energy storage system
Golf carts
Recreational Vehicles(RVs)
Marine machine
UPS Backup power system
Solar street light
LiFePO4 Battery In Series And Parallel