48v Stackable Battery Lifepo4 Pack For Home Solar Battery Storage System – KHLiTech ESS
This 48v floor-standing stackable battery (or Power Storage Brick) contains a lithium iron phosphate battery pack and a BMS system. A single stackable battery is 5Kwh, and the capacity can be expanded to 75Kwh by parallel connection. Plug and play are suitable for home energy storage systems and small and medium-sized enterprises. The power supply is the perfect choice for backup power. 48v 5kwh battery, 48v 10kwh battery in Stock.
KHLiTech's stackable battery can flexibly expand its capacity, which can be achieved by simple stacking. Up to 15 batteries can be connected in parallel to reach a capacity of 75Kwh, which is very suitable for home use. According to different energy power design modules, 10KwH, 20KwH, 30KwH, 40KwH, 50KwH, 60KwH, 70KwH, 75KwH energy storage systems can be customized.
Advantages of 48V Stackable Battery Pack
Use A-grade lithium iron phosphate battery;
More than 6000 cycles, 10 years of service life;
Higher energy density, lower chlorosis rate;
Built-in intelligent BMS system;
Plug and play all-in-one;
Flexible capacity expansion, up to 75Kwh;
Stacking batteries saves space;
LCD screen monitors battery status in real-time;
Wide temperature range, -20℃-55℃;
Support customization of different power;
Advantages of Battery Management Systems
The stack rack battery has a built-in intelligent BMS, which monitors battery parameters in real-time and effectively protects the battery. Such as preventing over-charge, over-discharge, over-current, and over-temperature, short circuit protection, leakage detection, SOC estimation, etc.
Stack Rack Battery Certification
Our batteries are exported to Europe, America, the Middle East, Asia, Africa, Oceania, South America, and other regions. We have ISO/CE/UL1973/UN38.3/MSDS/ROHS/IEC62619/CE certificates.
What Our Customers Say
Not only stackable batteries but also many of the battery products we export have a lot of good reviews, whether it is quality, price, service, or product practicability, the satisfaction rate is very high!
Applications
Because of their flexibility and expandable capacity, floor-standing stacked batteries are widely used in photovoltaic input, electronic products, Small electrical appliances, Home Energy Storage, Backup Power for Data Centers, Communication Base Station Power Supply, and mains input.
Off-grid power supply:
Use the power released by stackable batteries at night to save electricity bills during peak hours. When there is a power failure, the stackable energy storage battery will detect and automatically switch to the power supply mode, making life more convenient.
Project Cases
Energy shortage is already a common problem. How can renewable energy be used to compensate for the energy gap? The energy storage system has given us the answer. KHLiTech has a large inventory of conventional energy storage products, and provides customized and ODM/OEM services. As shown in the picture, you can see how practical our battery is.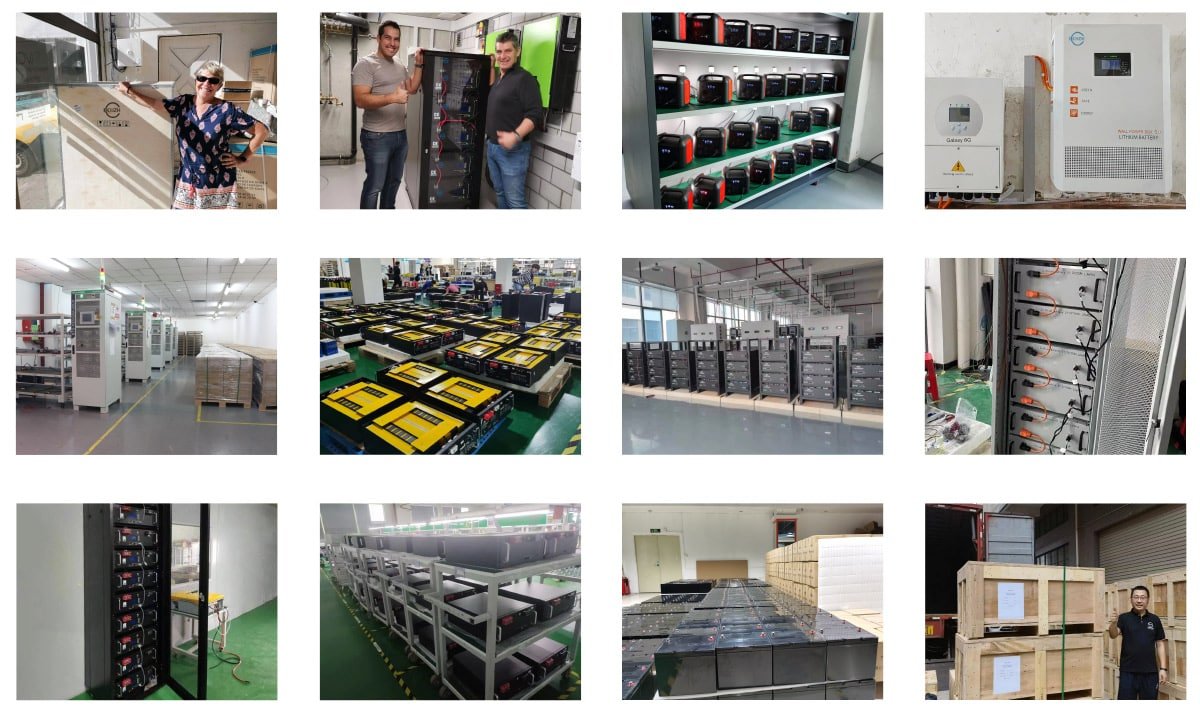 KHLiTech – Battery Energy Storage Factory in China
KHLiTech is an excellent energy storage battery manufacturer in China with 15 years of rich experience. KHLiTech has a battery manufacturing plant of 9,000 square meters, six production lines, and its R&D team to provide you with a one-stop battery energy storage solution to solve the energy shortage. In addition to the stackable battery, we also offer server rack lifepo4 battery and Tesla Powerwall Alternative (wall-mounted battery ), all in one ess.
Find a Distributor
Don't hesitate to get in touch with us if you are engaged in solar energy storage-related business and looking for high-quality energy storage battery channels. We will help your business flourish with excellent product quality, 15 years of experience, and top 3 R&D teams.