Lithium iron phosphate batteries have the characteristics of ultra-long life, high safety, large capacity, and environmental protection. The demand in the fields of power batteries and energy storage continues to improve. The energy storage system supporting lithium iron phosphate batteries has become the mainstream choice in the market. In the first seven months of 2022, China's domestic lithium iron phosphate energy storage accounted for more than 90% of the electrochemical energy storage field.
Market Situation
1. Production and sales situation
The cost of lifepo4 batteries is significantly low when the prices of raw materials such as lithium battery positive electrodes, negative electrodes, and electrolytes are rising, and the cost pressure of large-scale production is relatively small, so car companies widely like it.
In the first half of 2022, China's lithium iron phosphate battery output reached 123.21GWh, with a total production of 59.7%, a year-on-year increase of 226.8%; sales volume advanced 121.3GWh, a year-on-year increase of 253.2%.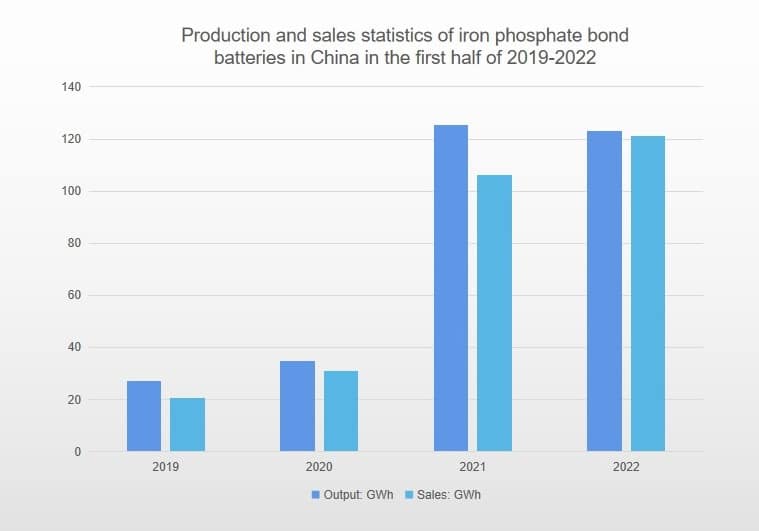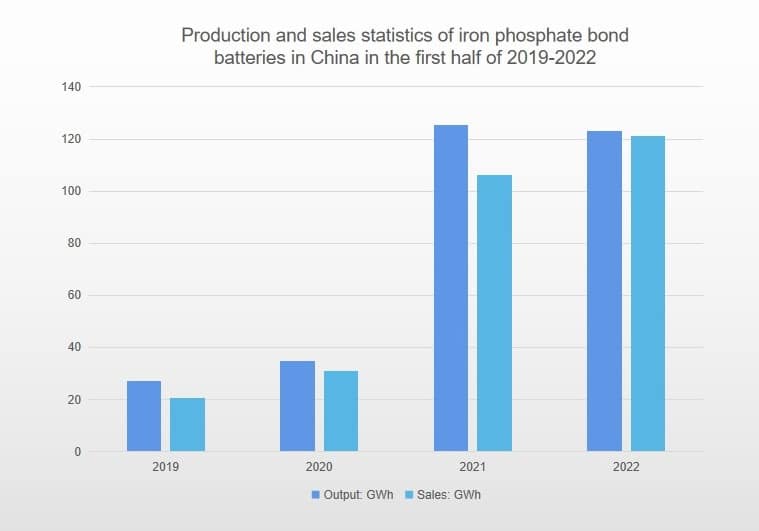 2. Loading Volume
With the increasingly fierce competition in the new energy vehicle market, most car companies are also cutting prices, so car companies are bound to purchase lower-cost lithium iron phosphate batteries.
In recent years, China's installed capacity of lithium iron phosphate batteries has increased significantly. In 2021, the installed capacity of lithium iron phosphate batteries will hit 79.8 GWh, a year-on-year increase of 227.05%. In 2022, the installed capacity of lithium iron phosphate batteries will reach 64.4 GWh, accounting for 58.5% of the total installed capacity. %, a year-on-year increase of 189.7%.
Development Trend
1. The cost advantage continues to emerge, and the industry scale continues to expand
In the first half of 2022, the penetration rate of China's new energy vehicles was 21.6%. In the future, under the dual drive of policy and market, the new energy vehicle industry will have broad prospects for development, and the penetration rate will continue to increase.
In the post-subsidy era, the cost advantage of lithium iron phosphate batteries continues to emerge. Especially under the continuous impact of the epidemic, the prices of bulk commodities continue to rise, the production costs of car companies continue to be under pressure, and the demand for cost reduction is more urgent. To control costs, car companies will use Lithium iron phosphate batteries with lower prices are more popular. Because lithium iron phosphate batteries do not contain precious metals such as cobalt and nickel, they are more beneficial in terms of cost control.
In recent years, thanks to the efforts of enterprises, the performance of lifepo4 batteries has been improved to a greater extent and has been continuously recognized by the market and enterprises. The traditional iron battery has been increased by 50%, and the cost has been reduced by 30%. In June 2022, CATL released the third-generation CTP—Kirin battery. The volume utilization rate of the battery pack increased from 55% of the first generation to 72%. With a density of 255Wh/kg, it can achieve a battery life of 1,000 kilometers.
In the future, with the continuous innovation of lithium iron phosphate battery technology, the scale of the industry will continue to expand.
2. The Matthew effect is getting stronger, and the living space for new entrants is small
From the perspective of enterprise structure, China's lithium iron phosphate battery industry structure is relatively concentrated. Leading enterprises have mastered the industry's cutting-edge technology and core customer resources. Power batteries have a significant impact on vehicle performance. Car companies are very cautious in choosing battery suppliers. Therefore, leading companies such as Ningde Times and BYD will be the first choice for battery suppliers of many car companies. At the same time, the power battery industry is technology-intensive and capital-intensive, with significant investment in R&D and a long cycle. Technological innovation is the core force of enterprise competition. Larger leading enterprises have solid financial strength, talent reserves, and technology accumulation. Advantages, the industry has formed relatively high entry barriers, and various OEMs have deployed lithium iron phosphate batteries to ensure the supply of the industrial chain and the living space for new entrants in the future will be smaller.
The lithium iron phosphate power battery market is so hot, so which manufacturers are behind the research, development, and production of lithium iron phosphate batteries?
CATL
Founded in 2011, CATL is a China-based battery manufacturer and technology company specializing in the manufacture of lithium-ion batteries for use in electric vehicles, energy storage systems, and battery management systems (BMS), large-scale grid energy storage systems, Smart grid energy storage system, distributed home energy storage system.
In 2020, CATL became Tesla's battery supplier. In 2021, CATL occupied a market share of 32.6% and became the world's largest manufacturer of lithium-ion batteries for electric vehicles. In the first half of 2022, CATL ranked first in the world with a market share of 34%. CATL plans to reach a manufacturing capacity target of >500 Gwh by 2025 and >800 Gwh by 2030.
2. BYD
Founded in 1995 and headquartered in Shenzhen, Guangdong, China, BYD is a listed Chinese conglomerate manufacturing company. BYD is a major manufacturer of all-electric and hybrid vehicles, buses, e-bikes, trucks, forklifts, solar panels, and rechargeable batteries.
3. Guo Xuan High-Tech
Guoxuan High-Tech Co., Ltd. (referred to as Guoxuan High-Tech) is listed on the Shenzhen Stock Exchange in China. The company's main business includes new energy vehicle power batteries and power transmission and transformation products.
Guoxuan Hi-Tech was established in May 2006. Its Chinese headquarters is located in Baohe District, Hefei City. It was successfully listed in May 2015 with the stock code SZ.002074. It has new energy vehicles power lithium batteries, energy storage, power transmission, distribution equipment, etc. The business segment has an independent, mature R&D, procurement, production, and sales system.
Guoxuan Hi-Tech is one of the earliest enterprises in China engaged in independent research and development, production, and sales of lithium-ion batteries for new energy vehicles. The main products are lithium iron phosphate materials and batteries, ternary materials and batteries, power battery packs, and battery management systems. And energy storage batteries. Products are widely used in pure electric passenger vehicles, commercial vehicles, special vehicles, light vehicles, and other new energy vehicles and provide system solutions for energy storage power stations and communication base stations.
Guoxuan Hi-Tech's patented technology is distributed in China, Europe, the United States, Japan, South Korea, and other countries. The patented technology mainly covers the four primary materials of the battery cell, battery structure design, and battery processing. Technology and equipment, BMS, PACK, testing and evaluation, dismantling and recycling, energy storage, etc., the patent layout covers the entire industrial chain technology of batteries.
In the future, Guoxuan Hi-Tech will continue to uphold the mission of "Let green energy serve mankind," based on the power lithium battery business, accelerate the expansion of the energy storage business, improve the layout of the entire industrial chain, actively participate in global competition, focus on technology-driven, and become a global energy storage industry leader of.
4. CALB
CALB, formerly known as Zhonghang Lithium Battery, was established in 2007. Its business scope covers lithium-ion power batteries, battery management systems, energy storage batteries, and related products and solutions. It is a world-leading new energy technology company. Zhongxinhang is committed to becoming an energy value creator, building an overall energy operation system, and providing complete product solutions and total life cycle management for the new energy full-scenario application market represented by vehicles, ships, and energy storage. In 2021, China Innovation Aviation announced at the strategy conference that the company's production capacity planning by 2025 will exceed 500 GWh, and 1 TWh of production capacity will be achieved by 2030.
5. EVE Energy Co., Ltd
Huizhou Yiwei Lithium Energy Co., Ltd. (also known as EVE Energy Co., Ltd) was established in 2001 and listed in 2009. Now it has developed into a high-quality lithium battery platform company. It also has core technologies and comprehensive solutions for consumer and power batteries. Its products are widely used in the Internet of Things, Energy Internet field.
EVE lithium consumer battery products cover primary lithium batteries, small lithium-ion batteries, and cylindrical batteries, serving the world's first-line industrial & consumer brands, and are widely used in smart meters, automotive electronics, smart security, electronic atomizers, intelligent wearables, TWS Headphones, electric tools, electric two-wheelers, vacuum cleaners, and other segments.
The comprehensive power battery solution covers square ternary batteries, square lithium iron phosphate batteries, soft-pack ternary batteries, large cylindrical batteries, and power and energy storage battery systems. It is widely used in electric ships, construction machinery, power energy storage, and communication energy storage, home energy storage, and other markets.
6. Svolt
Svolt was formerly known as the Power Battery Division of Great Wall Motors. In 2018, Svolt Energy Technology Co., Ltd. was registered, established, and separated from Great Wall Motors. In 2021, it was restructured into Honeycomb Energy Technology Co., Ltd., headquartered in Changzhou, Jiangsu, China. Honeycomb Energy is a professional lithium-ion battery system provider focusing on the R&D, production, and sales of new energy vehicle power batteries and energy storage battery systems. The main products include batteries, modules, battery packs, and energy storage battery systems. They can provide customers with solutions for power batteries and energy storage products according to their needs.
7. Lishen Battery
Tianjin Lishen Battery Co., Ltd. (referred to as Lishen Battery) was founded in 1997 with a registered capital of about 1.93 billion yuan. It is China's first joint-stock high-tech enterprise engaged in R&D, production, and operation of lithium-ion battery technology. Lishen Battery owns the core technology with independent intellectual property rights and has an annual production capacity of 500 million ampere-hours of lithium-ion batteries. Its products include four series of round, square, polymer, and plastic flexible packaging and power batteries with hundreds of models. In just a few years, Lishen Battery has developed rapidly and has become an excellent professional manufacturer of lithium-ion batteries in China. The application of products has also expanded from portable mobile electronic devices to new energy electric vehicles, wind and solar power generation, and energy storage systems.
8. AVIC Lithium Battery
Established in 2006, AVIC Tech is a national high-tech enterprise with more than 100 independent intellectual property rights. AVIC Tech is a leading supplier of high-end industrial power supplies and lithium battery energy storage equipment in China. It continues to focus on the R&D and manufacturing of three major product lines: energy storage systems, industrial power supplies, and network energy. The company is deeply involved in industrial and commercial energy storage, data centers, nuclear power construction, electric energy, semiconductors, precision manufacturing, petroleum and petrochemical, rail transit, power quality, automobile manufacturing, aerospace, and other sub-sectors. It is committed to providing safe and reliable solutions for global customers: digital power energy product solutions and comprehensive, high-quality services.
9. Desay Battery
Desay Battery was established in 1983. After more than 30 years of development, it is now a large-scale electronic information enterprise group with an annual sales revenue of over 30 billion yuan. It owns 2 listed companies (Desay Battery, stock code SZ000049; Desay SV, stock code SZ002920), whose industries involve automotive electronics, new energy batteries, LED optoelectronics, innovative equipment, precision components, and other fields. Desay Battery is one of the top 500 manufacturing companies in China, and more than 30 of its partners and customers are Fortune 500 companies worldwide.
10. KHLiTech
https://www.lithiumbatterytech.com
KHLiTech Lithium Battery was established in 2007. It has a professional lithium battery research and development team and is deeply involved in the technology research and development, production, and operation of the lithium battery industry. It is committed to creating and providing safe, durable, and sustainable batteries with lithium technology. KHLiTech is a lifepo4 battery manufacturer in china with 15 years of professional experience. It has a lithium battery factory covering an area of 9,000 square meters. Its products are widely used in new energy vehicles, RVs, ships, golf carts, solar energy storage, portable communications, electronic products, lighting, and other industries.