Wholesalers 12V Group 65 Lithium Battery
KHLiTech BT series (Bluetooth series) rechargeable deep cycle 12V 50Ah LiFePO4 battery, the battery is made with lithium iron phosphate technology, built-in 50A BMS, has Bluetooth monitoring function, can provide 7000+ (50% depth of discharge) discharge cycles. Particularly suitable for RV/camper, solar, marine applications.
With 2,000+ recharge cycles (and up to 7,000 under ideal charging conditions) the 50 Ah provides 5 X the lifespan than your typical SLA battery. Bluetooth® communication capability for battery status through KH mobile app( including the voltage,capacity, temperature,etc status). Ideal for industrial purposes where you need a long lifespan battery that charges quickly, or for outdoor uses like hiking or camping where weight is at a premium.
Extremely high number of charge/discharge cycles >4000 without worrying about the depth of discharge. The lithium technology allows you to use the full amp capacity without damage. You should get more than 10 years with proper maintenance. 10 year manufacturers warranty

Bluetooth monitoring software available to download onto your phone from your app store

Wide operating temperature range and unsurpassed high temperature performance. Green energy without metal contaminant.

High amp capacity with a sophisticated BMS safety protection system, short circuit protection, over and under charge protections. Each cell is fused and if for some unlikely situation a cell fails, this design will isolate the cell stopping any other damage and allows the battery to function safely

100A peak discharge for 10 seconds
More battery care guidelines:Storage and Maintenance Guidelines for LiFePO4 Batteries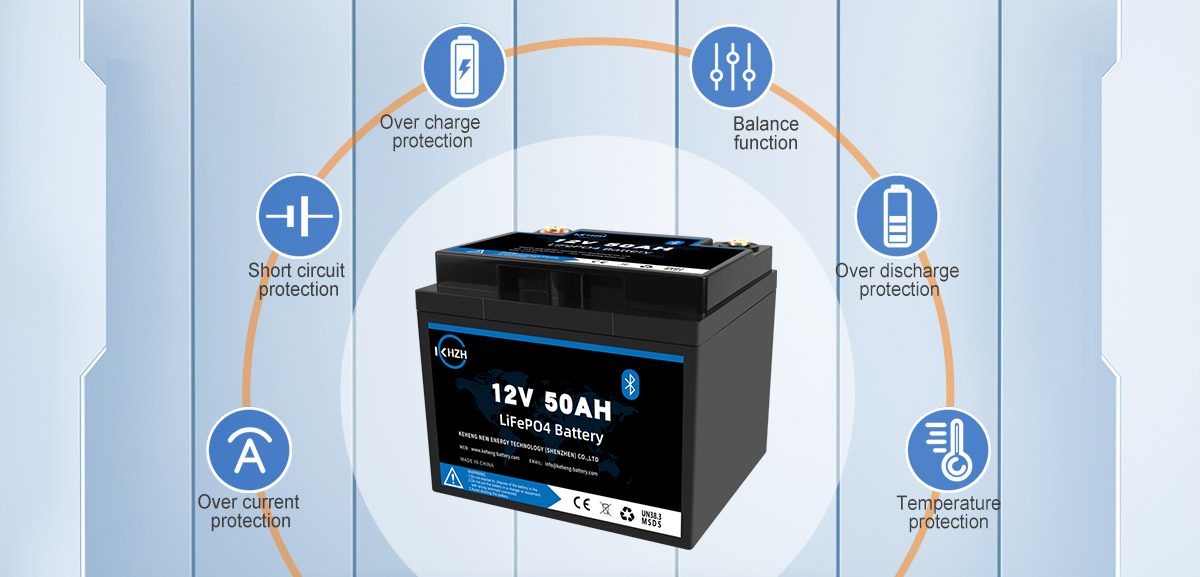 KHLiTech deep cycle battery provide more energy for high consumption than traditional lead-acid batteries. They also offer ultra-fast charging and discharging, high efficiency and a longer cycle life – plus no maintenance!
Not all lithium batteries are created equal. All KeHeng Batteries use the safest and most stable components, including a LiFePO4 cathode and a built-in Battery Management System (BMS). The BMS ensures a long lifetime, safe handling – and high-accuracy State of Charge (SOC) calculations.
Lightest Batteries
Lightweight with a removable handle this battery easily uses the same space as your existing 12V battery and replaces lead acid, AGM or Gel battery applications in RVs, boats, commercial vehicles, off-grid back up power and much more.
Deep Cycle Lithium Battery Management System BMS
A battery management system (BMS) is any electronic system that manages a rechargeable battery (cell or battery pack), such as by protecting the battery from operating outside its safe operating area[clarification needed], monitor its state, calculating secondary data, reporting that data, controlling its environment, authenticating it and / or balancing it.
A battery pack built together with a battery management system with an external communication data bus is a smart battery pack. A smart battery pack must be charged by a smart battery charger.
A BMS may protect its battery by preventing it from operating outside its safe operating area, such as:
Over-current during charging
Over-current during discharge
Over-voltage during charging, especially important for lead–acid and Li-ion cells
Under-voltage during discharging
Over-temperature
Charging while under temperature
Over-pressure (NiMH batteries)
Ground fault or leakage current detection .
Bluetooth Battery checks the remaining battery level of the Bluetooth devices connected to the smartphone, changes pairing device, and automatically start a specific application for each set Bluetooth device.
– (NEW) Support AirPods.
– Check list of connected Bluetooth devices
– Check battery level
Superior Opportunity
12V 50AH LiFePO4 Bluetooth Monitor Lithium Ion Battery is designed and engineered in the china by KeHeng, the world's leading supplier of deep-cycle batteries for nearly 20 years. You can be confident KeHeng is the highest quality product on the market—backed by KeHeng's extraordinary customer support.
Primary Competitive Advantages
Origin Guarantee/Warranty
Price Product/Features Product
Performance Prompt/Delivery Quality Approvals
Reputation Service /Small Orders Accepted
Internal Structure
KeHeng caring every details of the lithium battery pack to assure you get the most safe and durable battery using experience,Strictly select battery cells and battery pack accessories, strictly implement production ISO specifications.

Best Lightest  And Powerful Battery
Applications
12V 50AH LiFePO4 Bluetooth Monitor Lithium Ion Battery are more widely used, and can better monitor the performance of batteries at any time in outdoor and harsh environments. In RV and marine, electric fishing boats, perform well.Especially in high temperature and arid areas, the power battery of the water pump performs extremely well in a high temperature environment, and can monitor the performance of the battery in time. It is loved by farms, farms, and outdoor operations.
Solar/wind Energy storage system
Golf carts
Recreational Vehicles(RVs)
Marine machine
UPS Backup power system
Solar street light
Batteries in series and parallel
How to: connecting batteries in parallel, series, or both
There are several things to consider when connecting batteries in parallel or in series to achieve the correct battery voltage or capacity for a particular dc installation.  By connecting batteries in series or parallel or both as one big bank, rather than having individual banks will make your power source more efficient and will ensue maximum service life for your battery bank.