Battery Energy Storage System

20kwh ESS
This containerized all-in-one energy storage battery is powered by a brand new A-grade lithium iron phosphate battery, which can be used separately as an energy-independent system. The cycle life is more than 6000 times, the service life is up to 10 years, and the product warranty is 10 years. The combination of the lithium battery pack, inverter, and controller saves the process of pairing the battery with the inverter and brings a lot of convenience. In addition, there are RS485, RS232, CAN communication protocol ports, plug and play, widely used in solar home energy storage, power supply for small and medium enterprises, industrial projects, and so on.
All-in-One Energy Storage System: The Energy of the Future
The KHLitech All-in-One Energy Storage System is a groundbreaking product that integrates solar power generation, energy storage, and power conversion into a small and compact gadget. With the help of this system, you can utilize the abundant free energy from the sun to run your house, office, or any other type of equipment. The built-in battery can also be used to store additional energy for use when there are no sunlight or power outages. The plug-and-play construction of the KHLitech All-in-One Energy Storage System makes it easy to install and use. Simply plug the system into an electrical outlet or generator after connecting the solar panels to the system.
Commercial & Industrial Battery Energy Storage System
Our lithium batteries are widely used in solar and wind energy storage systems. They can store energy captured during the day and release it at night or during periods of low energy production. This helps improve the use of renewable energy and ensures a stable power supply.
This 48V all-in-one energy storage cabinet supports series and parallel connections to increase the capacity of the battery to meet greater power demand for industrial equipment, and agricultural irrigation. For example, by connecting 16 units of this equipment in series, you can get a 62KWh battery.
Benefit of Battery Energy Storage System
High Energy Density: Lithium Iron Phosphate batteries have a higher energy density, which means they can store more electrical energy. This makes them ideal for applications that require high energy output.
Independent Power Supply: Energy storage systems enable users to have an independent power supply, free from the constraints of the traditional power grid. This is particularly important for residents and businesses in remote areas, islands, or isolated locations.
Renewable Energy Storage: Off-grid battery systems can store electricity from renewable sources such as solar or wind energy. This helps mitigate the variability of renewable energy and ensures a reliable power supply around the clock.
Emergency Backup Power: Energy storage systems serve as emergency backup power sources during power outages or emergencies, ensuring the continuous operation of critical equipment and communication systems, and safeguarding lives and property.
**Energy Efficiency and Emissions Reduction:**By optimizing power supply, off-grid battery systems help improve energy utilization efficiency, reduce power transmission losses, and lower carbon emissions.
Cost Savings: Battery energy storage systems can reduce dependence on the traditional power grid, leading to energy cost savings, especially during periods of high electricity prices.
Customization and Scalability: Battery energy storage systems ****offer a high degree of customization and scalability to meet diverse user requirements. You can adjust system capacity and features as needed.
Advantages Of 48V All-In-One ESS Battery
Safe and reliable: Built-in fire control, temperature control system warning function for multiple security
Intelligent control system: This can be connected to the local monitoring system for system control. In the event of an unexpected situation, it can be suppressed the first time.
Convenient operation: All equipment is integrated into the cabinet, only external wiring harnesses are connected on site, and no secondary assemblies are required; Transporation with battery modules is supported.
Easy Installation: Simple structure, small footprint, flexible layout easy installation operation, and maintenance.
LiFePO4 Lithium Golf Cart Battery Full Certification
KHLiTech has exported batteries to Europe, America, the Middle East, Asia, Africa, Oceania, South America, and other regions. We have complete certifications, including ISO/ CE/ UL1973/ UN38.3/ MSDS/ ROHS/ IEC62619/ CE certificates.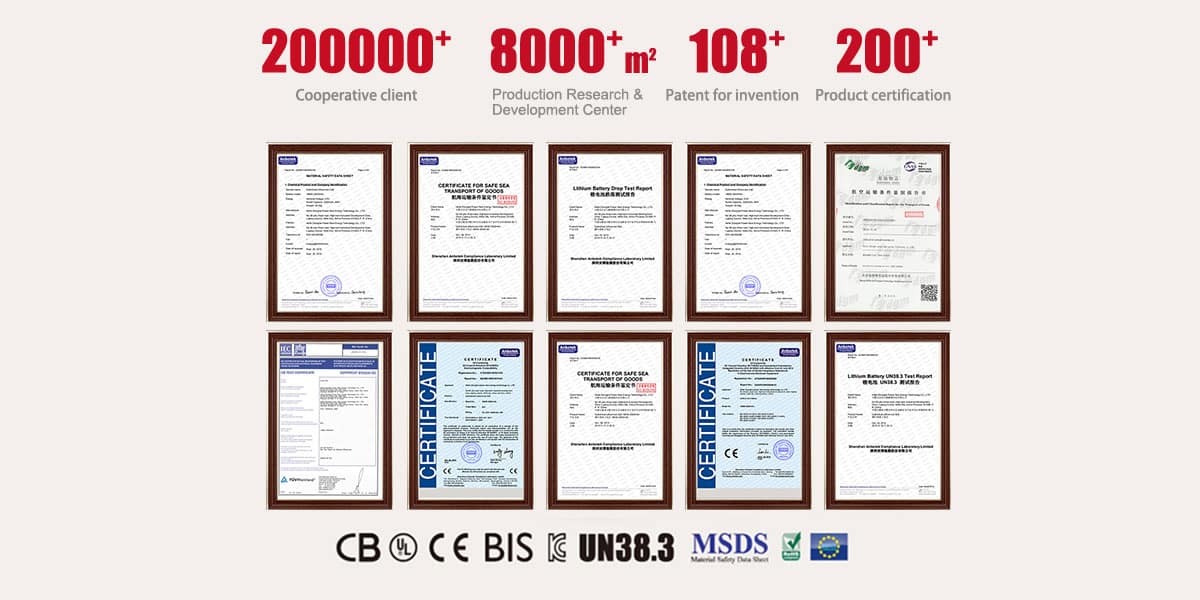 Find a Distributor
We have many distributors at home and abroad. If you are looking for high-quality energy storage batteries, don't hesitate to contact us. KHLiTech is a battery energy storage system manufacturer in China with 15 years of rich experience.