48V 400Ah 20KW LiFePO4 Battery Server Rack Battery Lithium Battery Energy Storage Syetem
The 5KW/20KWH LiFePO4 Battery Energy Storage System has a built-in 5KW inverter and 20KWH LiFePO4 server rack battery batteries, which can be used directly in a home energy storage system to power your home and to store energy for normal use in places where power is low. If this system is connected to a PV system, it can greatly reduce your expenses and save your daily energy.
SERVER RACK BATTERY ADVANTAGES:
Grade A lithium iron phosphate battery cell with ycle life of ≥6000 times, battery life of over 15-20 years.
Standard 4U rackmounted metal cabinet IP65 waterproof casing, corrosion-resistant, rust-proof, IP65 waterproof protection,battery pack is not damaged.
Built-in intelligent BMS, with overcharge and discharge protection, temperature protection, short circuit protection, and RS485 RS232 CAN communication.
Portable design, easy to install and disassemble.
The product has passed IEC62133/MSDS/UN38.3 certification.
Benefits of 20kw

Server Rack

Battery Home Energy Storage System
Backup Power: Powerwall is an integrated battery system that stores your solar energy for backup protection, so when the grid goes down your power stays on. Your system detects outages and automatically recharges with sunlight to keep your appliances running for days.
Energy Cost Savings: By storing excess solar energy generated during the day, the Powerwall can help reduce energy costs by using that stored energy during peak usage times or during the night when electricity rates are typically higher.
Long-lasting Performance: The Powerwall is designed to deliver reliable, long-lasting performance, with a 10-year warranty and an expected life of up to 15 years.
Environmental Sustainability: By using stored solar energy to power your home, the Powerwall can help reduce your carbon footprint and support a more sustainable future.
KeHeng Server Rack Battery provides more energy for high energy consumption than traditional lead-acid batteries. They also offer ultra-fast charging and discharging, high efficiency, and longer cycle life – plus no maintenance!
Not all lithium batteries are created equal. All HengLin batteries use the safest, most stable components available, including a lithium iron phosphate cathode and a built-in battery management system (BMS). This BMS ensures long life, safe handling, and highly accurate state-of-charge (SOC) calculations.
Reliable Battery Energy Storage Systems
Ultra-low electricity prices: All-in-one energy storage systems can take advantage of different electricity prices based on time-of-use pricing. They can save money by storing energy during off-peak hours when electricity costs are lower and discharging it during peak hours when electricity costs are higher.
Renewable Energy Integration: Home energy storage systems combined with a solar carport allow for more renewable energy to be integrated into the grid. The system reduces reliance on fossil fuel power by storing excess solar energy when demand is low and releasing it when demand is high.
Environmental Benefits: By promoting the utilization of solar energy and reducing reliance on conventional power plants, the application of high-voltage storage batteries in solar garages contributes to a greener, more sustainable energy ecosystem.
All-In-One Energy Storage System
It adopts full-digital double closed-loop control, combined with advanced SPW technology to output pure sine wave. Perfect for solar energy storage systems.
Two output modes: mains electricity bypass and inverter output; uninterrupted power supply.
Four charging modes: PV Only, Mains Electricity Priority, PV Priority, and PV&Mains Electricity hybrid charging.
Advanced MPP technology with 99.9% efficiency.
Comes with an LCD display and 3 LED indicators that can clearly indicate the status and data.
Rocker switch for AC output control.
Power saving mode reduces no-load loss.
Intelligent variable-speed fan to efficiently dissipate heat and extend system lifespan.
It comes with double lithium battery activation modes: mains and PV and supports lead-acid battery and lithium battery access.
All-round protection for solar panels includes overload and short circuit protection, under-voltage and over-voltage protection, and reverse polarity protection.
Horizontal installation facilitates cabinet combination.
48V 20KWH Server Rack Battery Energy Storage System Applications
Home energy storage system
Solar Energy Storage System
Solar Power Station
Backup Power Supply
Communication Base Stations
All In One Battery Certification
KHLiTech has exported batteries to Europe, America, the Middle East, Asia, Africa, Oceania, South America, and other regions. We have complete certifications, including ISO/ CE/ UL1973/ UN38.3/ MSDS/ ROHS/ IEC62619/ CE certificates.
What Customers Say About All In One ESS
The practicability, convenience, and high-cost performance of KHLiTech energy storage batteries have won unanimous praise from customers.
Server Rack Battery Product Gallery
Compatible Inverter List
KHLiTech's battery energy storage is perfectly compatible with inverters of more than 16 well-known brands worldwide. For Examples: Goodwe, Growatt, Victron, LXP, Sofar, Deye, FoxESS, Renac, Voltronic power, Sermatec, SREN/TBB, SMA, Studer, MUST, PYLONTECH.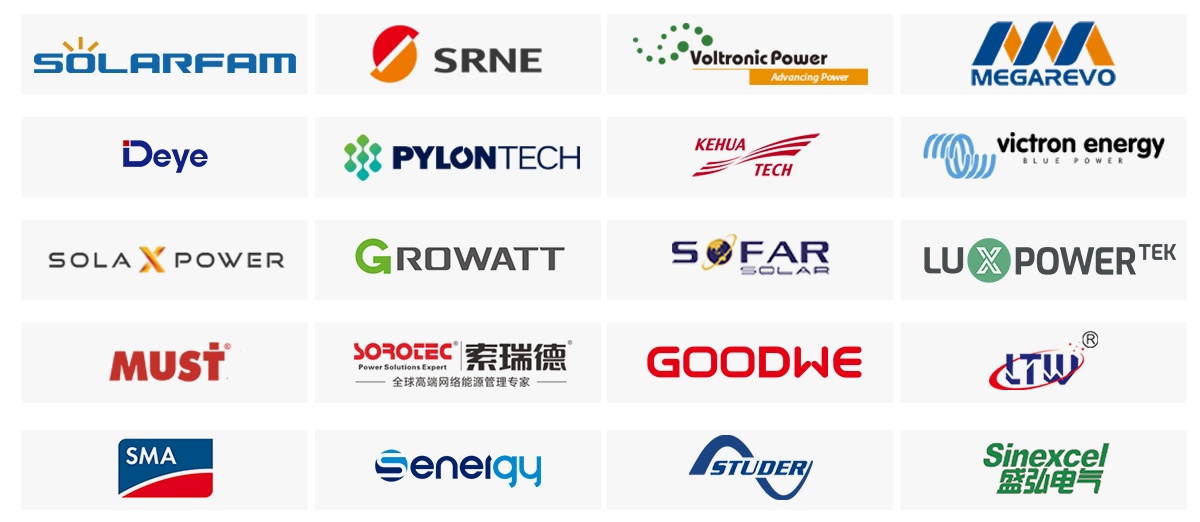 Product Process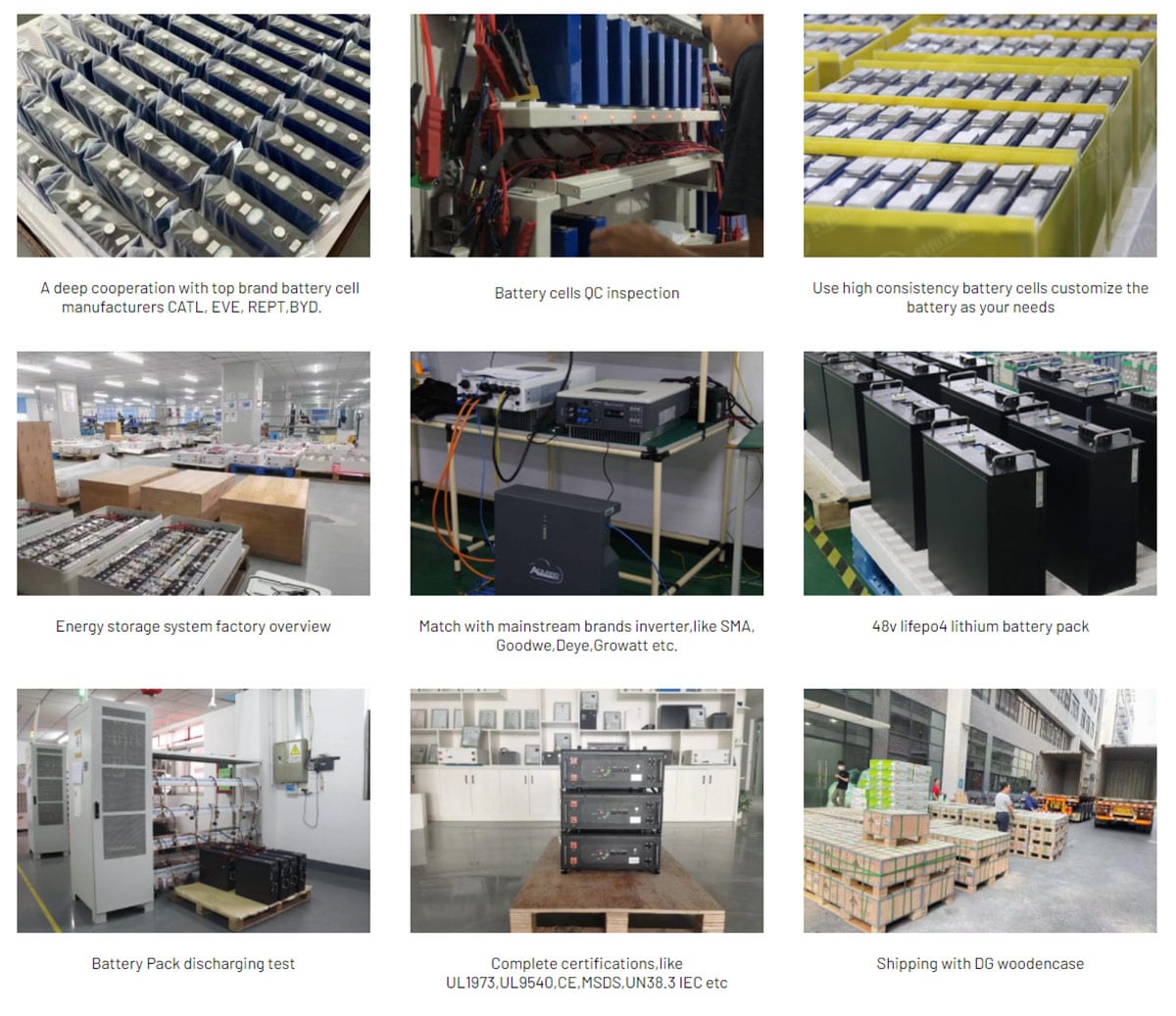 Product Packing and Shipping
KHLiTech has been engaged in the export of lithium batteries for 15 years. It has delivered lithium battery storage systems to more than 130 countries and packed batteries according to sea and air shipments. Its rich experience allows customers to receive satisfactory products and packaging.

Find a Distri

butor
We have many distributors at home and abroad. If you are looking for high-quality energy storage batteries, don't hesitate to contact us. KHLiTech is a battery energy storage system manufacturer in China with 15 years of rich experience.