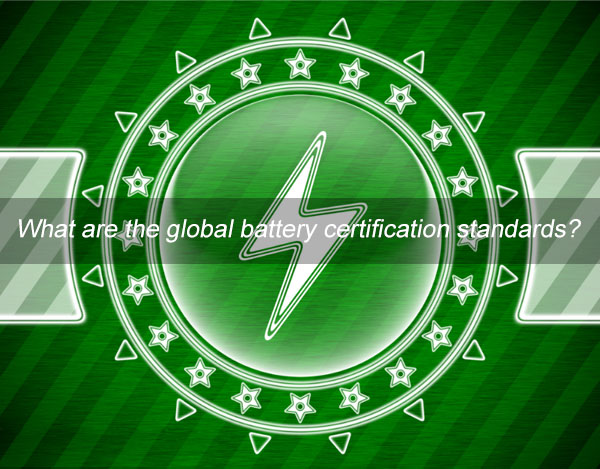 Battery certification requirements around the world
Battery transportation standard: UN38.3
International: CB Certification
China: CQC certification
EU: CE certification
India: BIS Certification
Vietnam: MIC certification
Malaysia: SIRIM Certification
Taiwan: BSMI certification
Japan: PSE certification
North America: WERCSmart Certification, cTUVus & ETL Certification, CTIA Certification
Thailand: TISI certification
India: CMVR Certification
Korea: KC certification
Brazil: ANATEL certification
UK: UKCA certification
Russia: Gost-R certification
battery standard
1. UL2054:2008 battery standard
2. UL1642:2008 Safety Standard for Household and Commercial Batteries
3. Four parts of IEC60086-4:2007 primary battery, battery safety
4. IEC62282004 Safety of primary and secondary batteries and accumulators during transportation
5. IEC61960-2 ion accumulators and battery packs for portable equipment
6. UN38.3 United Nations Manual of Tests and Standards for the Transport of Dangerous Goods-Battery Air Transport Regulations
7. GB/T18287-2000 General specification for ion batteries for cellular phones
8. GB21966-2008 Safety requirements for primary batteries and accumulators during transportation
9. SN/T1413-2004 Import and export primary battery safety inspection method
10. GB/Z18333.2001 Ion batteries for electric road vehicles
11. GB/T2502000 General Specification for Ion Batteries (Light Industry Standard)
12. QC/T743-2006 Ion battery for electric vehicle
13. /T744-2006 Nickel hydrogen battery for electric vehicles
14. MH/T1020-2007 Specifications for air transport of batteries
15. YD1268-2003 Safety requirements and test methods for mobile communication handset batteries and chargers
16. GB8897.4-2008 Safety Requirements for Batteries
17. SN/T1414.3-2004 Part 3 of Inspection Methods for Import and Export of Batteries, Ion Batteries
18. SJ/T11170-1998 Safety Standard for Household and Commercial Batteries
19. QC/T742006 Lead-acid batteries for electric vehicles
20. GB/T6491986 Standard solar cells for aerospace
21. /T2389-1998 manganese dioxide button battery
22. /T3747-1999 alkaline manganese button battery
Power battery UL2580 certification standard range
The UL2580 standard covers internal energy storage devices for electric vehicles such as battery cells, battery modules, and battery pack systems. This standard evaluates the ability of batteries to withstand simulated abuse and to protect personnel when abuse creates a hazard. At the same time, the standard evaluates the reliability of charging and discharging parameters of batteries and battery modules within the operating temperature range specified by the manufacturer. However, the standard does not take into account the interaction of other control systems in the electric vehicle with the battery.
The power batteries used in light electric vehicles (such as electric bicycles, electric wheelchairs, electric scooters, etc.) have separate requirements in the UL2271 standard, so they are not within the scope of the UL2580 standard.
In the UL2580 certification of power batteries, all the test items are for the test of power battery packs and battery modules for electric vehicles, and there are no test items for single cells, but the standard also specifically states that the cells must meet the corresponding battery standards. For example, lithium-ion cells must pass UL1642, and nickel-based cells must meet the requirements of cell testing in UL2054.
Keheng Self-Heating Battery
100AH 12V Low Temperature Heating Enable
Keheng New Energy's Range Of Products
DEEP CYCLE BATTERIES With BMS(lifepo4 Lithium Battery)
Low Temperature 24V 60AH Deep Cycle LiFePO4 Battery
Battery Knowledge